Hotel Sarotla: a family-run business for three generation
Why you will feel at home at the 4-star hotel in Sarotla
It's not only the location, ambience and recreational opportunities that make the Sarotla what it is: an extremely popular hotel in the hotel in the Brandner Valley, that guests from near and far come to for their active holiday in Vorarlberg. Above all it is the hosts which give the 4-star hotel its personal feel and unique touch. With so much warmth, hospitality and attention to detail, the Schedler family ensure that the guests at the 4-star hotel in Vorarlberg feel at home every single day!
How the Hotel Sarotla began more than 40 years ago
The foundations were laid by Franziska and Hermann Schedler in 1969 as the Sarotla was run as a small guest house and bowling alley before 40 years later it became the active hotel it is today. "Sarotla House" had been so popular with guests and locals for so many years that son Wilfried, together with his wife Elfriede and their children Lothar and Susi, decided to build a bigger, 4-star hotel in Vorarlberg on the same site. The time came in 2008 - an ideal time to hand over the responsibilities to the next generation.
Since then Susi Schedler has run the family-run hotel in the Brandner Valley together with her husband Hannes. Her brother Lothar Schedler is responsible for the hotel cuisine in his role as head chef. And even Elfriede and Wilfried Schedler are still on board. Elfriede often helps out at the hotel and Wilfried is the handyman of the family and also looks after the animals along the animal adventure trail at the hotel. By the way, little Kilian and his baby brother Finian ensure that the next generation of Hotel Sarotla is also represented!
Holiday planner
Check the availability during your desired dates ...
Brochures and more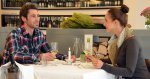 You can find our current brochure and further downloads here
to the downloads
THE meeting place

in Brand right next to the ski area and golf course

more info