Last-minute offers at our hotel in the Brandner Valley
Snap up one of our deals and spend a fantastic holiday in the Brandner Valley at the Active Hotel Sarotla
If your holiday is fast approaching and you would like to explore the Brandner Valley, you should definitely take a look at our last-minute deals: Whether it's summer or winter, for golfing, hiking or skiing, there is sure to be a great last-minute deal for you at our family-run 4 star hotel in Vorarlberg!
Take advantage of numerous complimentary services at our 4 star hotel in the Brandner Valley
Whether you book a suite or a room at our hotel in Brand, you can make use of a variety of inclusive services. You will always get more for your money here - reduced green fees on the Brand golf course and all golf courses in Vorarlberg, guided hiking and mountain bike tours, free entry to the nearby "Alvier" open-air pool and free use of the "Älmele" tennis courts and use of the hotel's Vitality area.
Take a look at our last-minute offers and spend some magical days at our hotel in the Brandner Valley!
Holiday planner
Check the availability during your desired dates ...
Brochures and more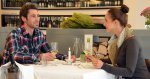 You can find our current brochure and further downloads here
to the downloads
THE meeting place

in Brand right next to the ski area and golf course

more info