Spend a great hiking holiday in Vorarlberg
Discover the Brandner Valley at our hotel
Sunny Alps, impressive summits and magnificent views of the Brandner Valley will make your hiking holiday in Vorarlberg a very special experience. Whether you want to take things easy or explore your limits as an experienced climber, there are challenging mountain tours and around 440 kilometres of hiking trails close to our hotel in the Brandner Valley. They will take you to the most beautiful places in the region.
Our hiking tips
From pleasant hikes with a walk time of around two hours to hiking tours lasting several days, there will be many opportunities to discover the breathtaking landscape of our region. Walk around the picturesque setting of the Lünersee at 1979 metres above sea level and stop off for a bite to eat at the "Alpe Lünersee" – this easy hike is ideal for families with small children. Or start right from our hotel in the Brandner Valley on a hike to the Kesselfall waterfall, where the Alvier river roars, crashes and foams through an impressive rocky gorge.
During the winter months we also highly recommend snowshoeing in the Brandner Valley. Snowshoeing in Vorarlberg enables you to explore untouched winter landscapes whilst keeping fit and active.
Climbing in Vorarlberg
Fans of climbing also get their money's worth at our hotel in the Brandner Valley. There s a nearby climbing park and ropes course in the middle of the "Hirsch Erlebniswald". There are numerous courses with varying degrees of difficulty and at different heights, with a total length of about 500 metres. The black course is the most challenging: The finish is 11 metres high and participants must be at least 1.40 metres tall. The green course is suitable for smaller visitors, with elements up to 3 metres high.
And relax …
After a strenuous, fun-filled day of hiking, as well as retiring to your comfortable room, you can also use our wellness area to relax in peace and quiet and reflect on your day.
Holiday planner
Check the availability during your desired dates ...
Brochures and more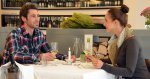 You can find our current brochure and further downloads here
to the downloads
THE meeting place

in Brand right next to the ski area and golf course

more info